CLZ Games APK – Just scan barcodes for automatic cover art and values from PriceCharting.

Make it easy to keep track of all of your video games. Scan the barcodes.
PriceCharting will give you up-to-date prices for games.
About this app
Easily catalog your video game collection. Just scan barcodes.
Automatically get up-to-date game values from PriceCharting.
Pricing: US $14.99 per year. Free 7-day trial.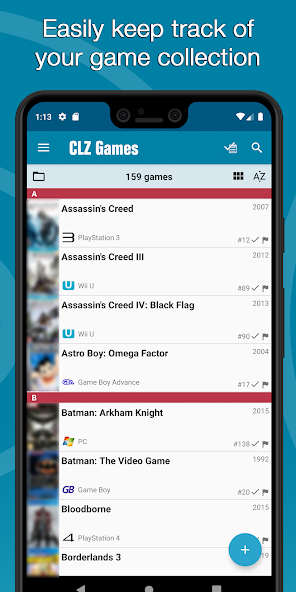 Keep track of your game collection and your wish list
Organize all your video games, for any platform, modern or retro. Keep track of their values based on their Loose, CIB or New status.
Easily add games to your game inventory
Three ways to catalog video games:
scan their barcodes.
find games by platform and title.
checkbox the games you own from a full platform list.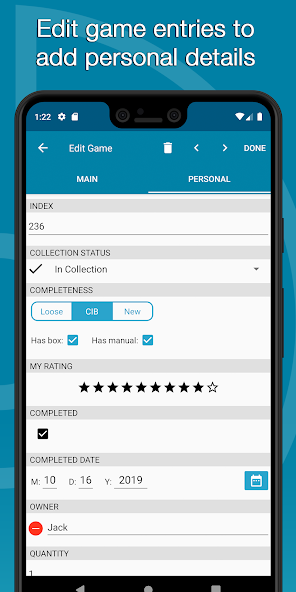 Automatically download full game details and cover images
Our CLZ Core will automatically give you cover art and full games details, like release dates, publisher, developer, game description, trailer videos, etc..
Get game pricing from PriceCharting
Set the Completeness status for your games (Loose, CIB or New) and instantly get game values from Pricecharting. Run the Update Values tool to get daily price updates.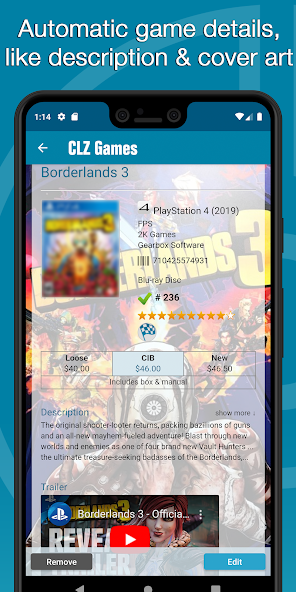 Edit your game entries to add personal info
Like location, completeness, purchase date / price / store, notes, etc..
Edit games one by one or use Edit Multiple for batch editing many games in one go!
Use our CLZ Cloud service to:
Share your app subscription to other mobile devices, without paying again.
Sync your game library between devices (e.g. your phones and tablets).
View and share your game collection online, using the CLZ Cloud viewer website.
Always have an online cloud-backup of your game organizer database.
Sync data to/from our Game Connect web-based software (separate subscription).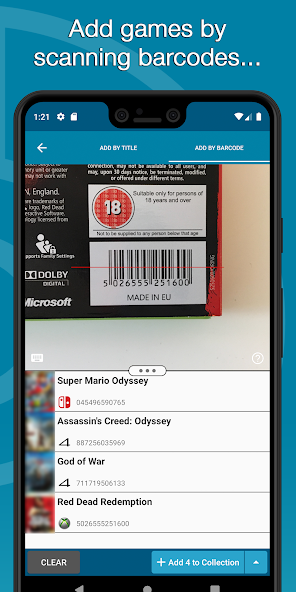 View collection totals and charts in the Statistics screen
Totals for games and platforms, most recent additions, most valuable games, charts by platform, by year, by genre, by completeness, by completed (yes/no), etc..
Browse, sort, group and search your game inventory in many ways
Browse your game collection as a list or as a "cover wall".
Sort by platform/title, date, value, date added etc.. Group into folders by platform, genre, location, completeness, developer, publisher, etc... Or just use the search box top right.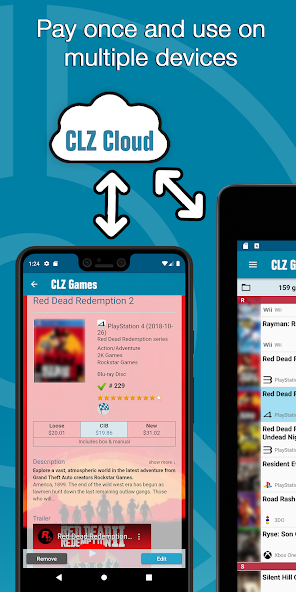 Questions or concerns? Just contact us!
We love to hear your feedback, we are here to help with any problems or concerns, 7 days a week. In the app, tap the menu icon top left, then choose Contact Support.
Key Features
Free to Download.
No registration required.
Easy to use.
Supports multiple languages.
No Third-party Advertisements.
Night Mode.
Many more....
Download CLZ Games APK + MOD