Download Z Legends 2 4.0.0 APK for Android - Free - Latest Version
Z Legends 2 - Is 2D fighting game based on Dragon Ball Super series. Geneildo Santos is developer of this game. He released the final version in January 2023. You will see 2D pixel graphics and Fighter z style game sound of Start game like Ready and Fight! The Game language is support only Spanish.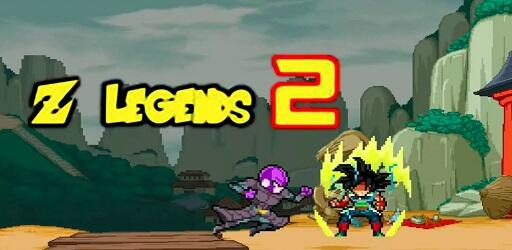 Play Modes
2 Vs 2:- Here you can do battle with 2 vs 2 characters. You can change your characters in the battle like if you select Goku and Vegeta so if the Goku lose the fight so you can change with Vegeta.
1 vs 1:- One Vs One battle is normal battle mode everyone already know about it. Select your warrior the start the fight.
Survival:- Fight with one warrior and win the Fights as you can win just using one life bar.
Tournament:- Select your character and win the tournament then you will win $1000 coins to unlock new Dragon Ball Super warriors. In the Tournament you need to win 3 Fights to complete the Tournament Mode.
Traning Mode:- If you are new player and want to learn Gameplay so you can play Traning Mode.
Shop:- You can Unlock new Warriors in Shop. Collect the Coins by playing this game.
Characters
Dragon Ball Super Warriors with Orginal Anime attacks. You will see 16 Characters from Dragon Ball Super Anime. Every character have all her organic manga and anime skills.
DBZ Goku:- Dragon Ball Z Saiyan Saga Goku with Super Spirit Boom and 20x Kaioken Kamehameha.
Scouter Vegeta :- DBZ Saiyan Saga Vegeta with Ultimate Galick Gun and Oozaru Attack.
Super Baby:- This is Dragon Ball GT Characters with Revenge Final Flash and Revenge Death Ball.
Piccolo:- Makankosappo and Hellzone Grenade.
Perfect Cell:- DBZ Anime 2 Second power full villain with Destruct Disk and Super Kamehameha Attack.
Frieza:- This is first power full enimie in Dragon Ball Z. Frieza have Death Saucer and Death Ball.
Black Goku:- Base to SSJ Rose and DBH Goku Black Rose with Kamehameha and Death Ball Attacks.
Goku Ultra Instinct:- Ultra Instinct Goku and Mastered Ultra Instinct with Anime Attacks like Super Kamehameha and UI Sign.
Gogeta:- Super Saiyan Gogeta from Dragon Ball Z and Gogeta Blue from Dragon Ball Super Movie Broly. Attacks have Soul Punisher, Ultimate Kamehameha and Meteor Explosion.
Vegito Blue:- Final Kamehameha and Omega Finishing Blow.
Vegeta Ultra Ego:- This is Vegeta's New form from Dragon Ball Super Manga series. Vegeta Ultra Ego have Rush Attack + Hakai and Destruction Ball.
Future Gohan:- You have already known about the future Gohan, it's a Dragon Ball Z Future Trunks storyline characters. Gohan have Kamehameha and Ki Charge attacks.
Key Features
Free to Download.
No registration required.
Easy to use.
Supports multiple languages.
No Third-party Advertisements.
Night Mode.
Many more....
Conclusion
We've shown you all of the cool stuff you can do with your favourite video games and mobile apps. We always strive to provide you with high-quality apps and games. For free, you can download more apps and games from this and our websites. You don't have to spend a dime. The latest version of Z Legends 2 APK can be downloaded to your Android phone when you are ready. To be clear, we will only provide the original, unaltered APK for download free of charge.
Download Games and Apps Latest Version for Android – APKink